About Kadena Town
Enjoying Kadena
Our Town's forerunners
Chotoku Kyan
Karatemasters combine culture and a martialart.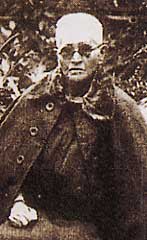 Chotoku kyan, a karate master with great sophisticated knowledge of martial arts, was born is November 1870 in Gibo Village at Shuri. His father Chofu worked as a securetary at the royal court of King Shou-shin,and provided his son with the best possible education. Chotoku was 12 years old when his father took him to Tokyo where he stayed untill the age of 16 learning Chinese iterature. He was said have been asmall boy who was constantly sick, so in order to make him storonger his father taught him karate and Okinawa wrestling. He came back to Shuriwhen he was 20 years old. He entered karate dojo and became the teacher of Soukon Matsumura(Shuri-style) and Koukan Oyadomari (Tomari-style). He became known as the "Great Teacher of Karate".At the age of 38, he built a house and a dojo near the Hija River, where he taught karate. He had a nickname, "Chanmigwaa," meaning that he was small and skinny but his 'flying bird' technique made him unbeatable.
Kamechiyo Kochi
Master of Nomura Style Ryukyuan Classic Music.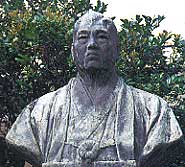 Born at 801-banchi Mizugama, Kadena Town on March 4, 1897, Kamechiyo was initiated into Nomura style.
Ryukyuan classical music by Sotoku Serikyaku at the age of seventeen. Later, he furthered his study under Messrs. Chotei zukerann, Choji Takayasu, Ryojin Kim, Seizui Isagawa and Shicho Miyagi. In 1963, he was conferenced an award by the Okinawa Times in appreciation of his cooperation for art festivals.
Again in December of same year, he was conferenced Master of Nomura-style classical music at the annualgeneral meeting of the Nomura-style Music Association.
Seisei Okuma
Master of the Nomura and Tansui Schools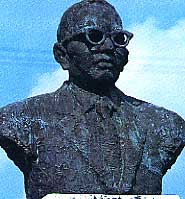 Born January, 1900, in Mizugama, Kadena Town as the third son of the Okuma family. He began shamisen at age of seven, and performed the accompaniment for the village play at age 21. Okuma studied under Seikyo Yamada andKoyu Shiroma. In 1955, he took part in founding the Nomura School of Ryukyu Classical MUsic Preservation Association, and was awarded his title as a Nomura Master the following year.
He was licensed a Master and heir to the Tansui School in 1958. Okuma died in May, 1967, at age 68.