About Kadena Town
Enjoying Kadena
Noguni Soukan A contributor to Ryukyu industry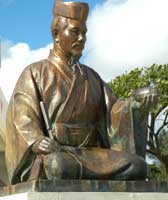 Noguni Soukan ,who worked for Ryukyu central government (Sho-nei Era) as a soukan (manager) of trade with China was born in Noguni-Magiri(district) of Kadena town (Kadena Air Base now).
The word 'soukan' is said to be a position in charge of management in the transport ship and offering prayer for peace. Actually, his real name is unkown.
Okinawa and China entered into diplomatic relationship from 1373 to 1872*. Noguni Soukan brought some young sweet potato plants from Fuzhou city, Fujian prefecture in China in 1605, and then grew them in Noguni district in Kadena town, his birthplace.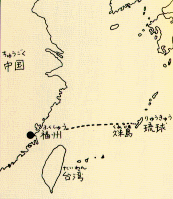 Later,Gima Shinjo, who lived in Kaki-no-hana villeage( Futenma Air Base now) Mashiki-Magiri (Ginowan City now) was taught the way to grow sweet potatos by Noguni Soukan, then promoted to cultivate them for 15 years in all over the Ryukyu islands. Later, Sweet potatos was brought into Hirado Nagasaki by William Adams in 1615, into Northern Kyusyu area by Richard Cocks, into Satsuma (Kagoshima) by Toshiemon Maeda,into Kanto area by Konyo Aoki. Noguni Soukan is called 'Umu-Ufushu (Sir Sweet potato)' ,loved and respected by Okinawa citizens even now.

See also...