About Kadena Town
Enjoying Kadena
About Trash Collection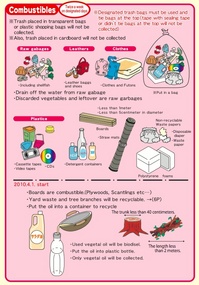 KNOW YOUR TRASH COLLECTION DAY
Place your trash out only on your scheduled collection day.
If you are unsure of your collection day, check the PDF file bellow.
or call Kadena Town Office at 098-956-1111.
About Trash Collection (Kadena Town) - PDF file 5.3 MB

PUT OUT YOUR TRASH AT THE CORRECT TIME
All type of Trash/recycling should be set out by 8:30 AM.
News List
[2016/08/30]

[2016/04/22]

[2012/08/08]

[2012/08/08]

[2012/08/08]